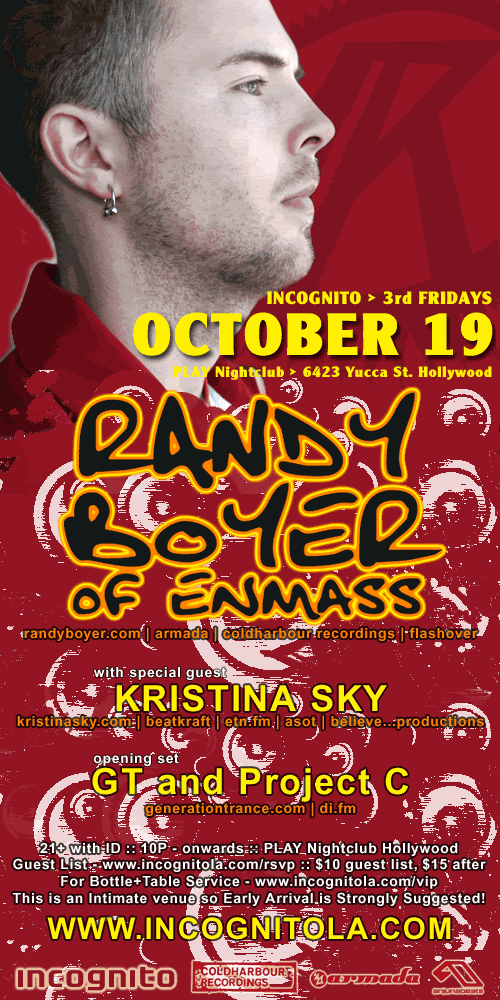 We are opening the night up from 10:00PM - 11:30PM, so please come early!


On Oct 19, we invite you to join RANDYBOYER of ENMASS as he turns
INCOGNITO and realize why he recently opened for TIESTO and why Markus
Schulz, Matt Darey, ARMIN VAN BUUREN, and almost ALL the SUPERSTAR
DJ'S play his music during gigs and feature his songs on their ALBUMS!

Infact, in FERRY CORSTEN's website, "Ferry's Top 5", he has
"Stemcell" by Randy Boyer as his personal #1 song of the present and
he signed it for Ferry's "Dance Valley 07" album to be released by
this month!

We are also pleased to have Kristina Sky of COACHELLA fame doing a
guest spin, plus the night will be opened by one of LA's favorite
tagteams, GT VS Project C of generationtrance and di.fm.

And this is all happening at our new venue, PLAY at 6423 Yucca Ave Los
Angeles, CA 90028-5002, a party place that is the chosen venue of
A-List red carpet events and closed-door celebrity filled birthdays.

TRANCE + PROGRESSIVE
- RANDY BOYER of ENMASS // Connecticut
- KRISTINA SKY // Los Angeles
- GT vs PROJECT C // Orange County

// Play Nightclub Hollywood 6423 Yucca Ave Los Angeles, CA 90028
// Guestlist $10 before 10:30PM | $15 after
// Discount list – www.incognitola.com/rsvp or email

[email protected]


// Birthdays|VIP|Bottle Service -

[email protected]


// More info – www.incognitola.com
// $10 Valet Parking
// www.incognitola.com

INCOGNITO
"I am a Medium. Drown in my Beats!"
_________________
Voices Of Winter 2017 (Strong + Gift)
VOT 156 (April 2018) + Ciacomix

Mixcloud :: Facebook :: Twitter :: MySpace :: TRACKER -

Please help seed the torrents, especially those with zero seeders!